You know iTunes, and you've heard of the the A-Team, but I'm guessing you have never heard of an 'I-team'; at least not by name.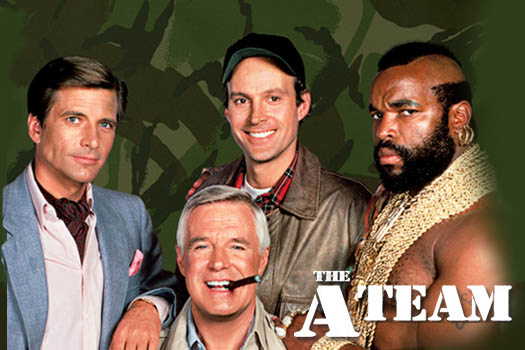 Definitely not an iTeam...
I'm just back from attending the launch of a major new report by Nesta called I-Teams: The Teams and Funds Making Innovation happen in Government around the world, supported by Bloomberg Philanthropies.
I-Teams (short for innovation teams) are a new institutional form that views 'policy' from a radically different perspective to the traditional hierarchical 'command and control' approach. They are government units, teams (often small) and funds working on various forms of government innovation, and doing 'policy' very differently.
That's more like it: one of the UK's finest iTeams: (Some of) The Behavioural Insights Team (image from May 2013)
I-Teams are not yet legion, but there are enough of them for us to know they vary considerably and work at national, regional and city levels. The report helpfully breaks their work down into four main categories (often overlapping in practice).
1) Solutions to specific challenges
2) Citizen, business and charity engagement to find new ideas.
3) Transforming government skills, culture and processes
4) Achieving wider policy and systems change
Examples and Reflections:
The Nesta report examines 20 of these iTeams in depth, four of which are highlighted by one of the authors of the report, Ruth Puttick, and copied below (with my hyperlinks, which may not be optimal matches).
Many believe these iTeams are a critical institutional form to promote government innovation, and the Nesta report and today's event are a way of trying to map their emergence across the world, and learn from early indicators of when they work well, and when they don't.
I haven't yet read the whole report, but here are my initial impressions:
First, I wonder whether the fourth manifestation of these iTeams - major systems change across government with commensurate impact in the real world- is really part of the story at this point, or whether that is merely part of the aspiration.
There are huge forces of inertia in Government machines, and iTeams currently tend to go round that inertia rather than going through it. The iTeam I know best, The Behavioural Insights Team, has been hugely successful with 1,2 and to some extent 3 on the list above, but much less so with 4 - wider policy and systems chance- and personally I find it hard to imagine how they ever could be with their current methodologies. If I'm right about that, I wonder if this is a fundamental feature of iTeams, or merely a function of them being relatively nascent and small in number at this moment in time.
Secondly, in today's discussions, I was struck by the prevalence of relatively emotional, even spiritual language in the context of what might have been assumed to be a relatively technocratic discussion.
Nesta's Helen Goulden spoke of the need for 'non-attachment' and being 'Buddhist-like' with respect to ideas, given that many of the ideas we love and want to work don't work in practice. MindLab's Christian Bason spoke of the core capabilities of people in iTeams in terms of the 'higher meaning' they are motivated by, and also the need for people who have ambition not just for their own ends, but 'ambition on behalf of the systems they are working with'. Douglas McGowen from Memphis spoke of the need for 'passion' for the work and sounded like he meant it, and Geoff Mulgan, the chair of the event, spoke of the role of iTeams in putting 'human experience' back at the heart of the policy-making process, contrasting it with the bygone days of experts writing long policy analysis reports that would somehow, magically, trickle down to the betterment of human experience.
Thirdly, the event got me thinking about what cultural theory would say about iTeams, which tend to be data-driven and nimble, but also appear to be predisposed to being 'clumsy' rather than 'elegant' in their approach, in a good way.
In the way they work, iTeams typically include aspects of hierarchy(e.g. support from national government), solidarity(work closely with communities involved) and individualism(often working with profit-motive) and are interested in what works in a given instance, measured empirically, rather than ideological loyalty to any given theory of change.
I may feel differently after reading the report, but the analysis of iTeams feels like an important development for anybody who cares about making government more effective.